Bowen Basin
ATP814P
71PJ 2P and 298PJ 3P Reserves
3,248 PJ of Contingent Gas Resource (3C)
Adjacent to Arrow Energy's Moranbah Gas Project
Planned pipeline to connect to Gladstone/Wallumbilla
Area
1,119km²
Holding
100% and Operator
Targets
Permian CSG targets: Rangal, Fort Cooper C and Moranbah Coal Measures.
Work Completed
Blue Energy CSG wells within the area
300+ Arrow Energy CSG production and pilot wells
Infrastructure
Moranbah to Townsville gas pipeline; Proposed Moranbah to Wallumbilla/Gladstone pipeline
RESERVES & RESOURCES
ATP814P consists of six disconnected blocks in the North Bowen Basin in an area ranging from south of Moranbah up to Newlands in the Northern Bowen Basin. This general area is one of the largest coal mining areas in Australia.
All of the prospective geological sequences occur variously within the blocks comprising ATP814P. There is established CSG production in the vicinity of ATP814P, most notably the Moranbah Gas Project, operated by Arrow Energy. Currently the Moranbah Gas Project supplies gas into the domestic market to Townsville and Moranbah for Ammonium Nitrate productuion, however the region surrounding ATP814P is operated by Arrow Energy (a Joint Venture consisting of Shell and Petrochina) which had aspirations to supply gas to the Gladstone LNG projects and consequently the area surrounding ATP814P is subject to high levels of drilling activity and infrastructure development. Arrow has received all government approvals for the gas development and export infrastructure from Moranbah to Gladstone but has yet to take Final Investment Decision for the project (both gas field development and pipeline construction).
Drilling undertaken by Blue Energy in the permit to date has focussed on the Sapphire Block (PL 1034) which is flanked by Arrow Energy's Production Licences. Activity on the flanks of the Sapphire Block has conferred 2P (59PJ) and 3P (216PJ) reserves in the Sapphire Block by Netherland and Sewell and Associates (NSAI), who are the Dallas based certifier acting for both Blue Energy and Arrow Energy. Adjacent activity by other Operators in both the ATP814P South and Lancewood Blocks has also resulted in 3P Reserves and Contingent Resources being conferred to Blue Energy by NSAI. The total 2P and 3P reserves in ATP814P are 71PJ 2P and 298PJ 3P.
Blue has entered Heads of Agreements (non-binding) to supply gas tp Energy Australia (100PJ) and Origon Energy (up tp 300 PJ) over 10 years at Wallumbilla. Blue has also executed an MoU with Quensland Pacific Metals to supply 112 PJ of gas to Townsville over 15 years.


Galilee Basin
ATP813P
NSAI Contingent Resource assessment – 838 PJ Contingent Resource
Adjacent Operators de-risking the CSG play
Focus basin for the Federal Government for new East Coast gas supply
| | |
| --- | --- |
| Area | 2,055km² |
| Holding | 100% |
| Targets | Aramac Coal Measures, Betts Creek Beds |
| Work Completed | 6 core wells |
| Infrastructure | 70km from the Barcaldine power station |
RESERVES & RESOURCES
ATP813P covers a large area in the Galilee Basin in Central West Queensland.
Previous exploration occurred in the 1970's and 80's for conventional oil.
Blue Energy's Galilee Basin tenement occupies a central position in the Galilee Basin.
Following the encouraging results of the Carolina 1 well drilled in 2008, Blue Energy embarked on an expanded CSG exploration program to assess the potential of the Late Permian sequence.
Blue Energy has drilled six CSG coreholes in total in the permit and as a result has been ascribed Contingent Resources of 838 PJ (recoverable gas) across the permit area by Netherland Sewell and Associates (NSAI).
Blue has made application to the Qld Government to upgrade and retain the tenure with 9 Potential Commercial Area applications (PCA's)
Surat Basin
ATP854P
Certified 3C Contingent Gas Resource (398 PJ)
Significant CSG development in adjacent permits
Conventional oil and gas opportunities
| | |
| --- | --- |
| Area | 771km² |
| Holding | 100% |
| Targets | Permian Bandanna Coal Measures, Jurassic Walloon Coal Measures, Conventional Jurassic Oil (Precipice Sandstone) |
| Work Completed | Oil exploration well, CSG core hole drilling program |
| Infrastructure | Close to gas pipeline infrastructure |
RESERVES & RESOURCES
ATP854P is located near the township of Injune in central Queensland. The Wallumbilla – Gladstone gas pipeline passes through the eastern portion of the permit, and gas discovered in this block is well located to access infrastructure and move gas either through to Gladstone or in the south eastern Queensland, South Australian or Sydney gas markets.
Initial focus of exploration in this permit was on two distinct CSG opportunities, the Walloon Coal Measures which are productive to the south on the Undulla Nose and the Roma Shelf, and the Permian Baralaba Coal Measure Play, which is productive at Fairview and Spring Gully
Exploration drilling by an adjacent tenement holder (GLNG) has been conducted on the north eastern boundary of ATP854P and resulted in gas production from the Permian coals at the Spring Rock pilot wells.
NSAI reviewed this Blue Energy tenement in January 2022 and revised their estimates of recvoverable gas resources upward by 300% to 398 PJ (3C) by Blue Energy.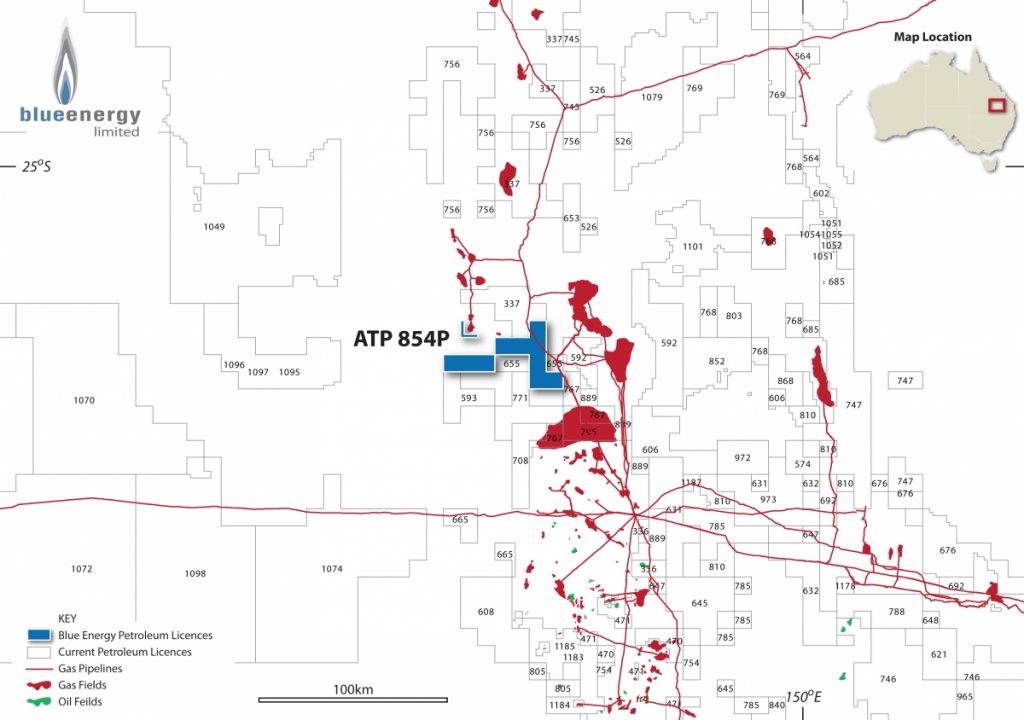 BASIN PARTICIPANTS

Greater McArthur Basin
EP199A, EP200, EP205A, EP206, EP207, EP208A, EP209A,EP210A, EP211A
9 contiguous blocks
Strong oil and gas potential
Blue Energy is Operator, controlling its future direction
| | |
| --- | --- |
| Area | 111,887km² |
| Holding | 50% (post farm in) |
| Targets | Cambrian Shale sequence, Cambrian carbonate and clastic sequences, Proterozoic section |
| Work Completed | Completed a regional gravity and aeromagnetic mapping project to understand the basin architecture |
| Infrastructure | Mereenie-Darwin Gas Pipleline, Alice Springs – Darwin Rail line |
Blue Energy reached an agreement in May 2013 with Australian Oil and Gas Pty Ltd to farm into 9 permits (3 awarded and 6 applications) in the Wiso Basin of Central Northern Territory. Under the agreement, Blue Energy becomes Operator of the permits and will conduct Geological and Geophysical Studies, acquire aeromagnetic and gravity survey data and acquire 2D seismic data.
The Wiso Basin is an essentially un-explored basin lying to the north of the Amadeus Basin, which contains the Palm Valley gas field and Mereenie gas and oil field. The surface area known to overlie the Wiso Basin is the Tanami Desert region of the Northern Territory.
Based on geological work conducted by Blue Energy to date, plus that of other Operators and the Northern Territory Department of Mines and Energy, it is clear that the Wiso Basin is in fact a part of the Greater McArthur Basin, where oil and gas discoveries have been established in recent years to the east.
Analogue basins to the Greater Macarthur Basins occure in Eastern Siberia and Oman (Middle East) which have, by contrast, been extensively drilled and very significant discoveries of oil and gas have been made from these older rocks. Reserves and production from these analogue basins are substantial.
The older geological sequences have the capacity to house supergiant oil fields and the paleogeography of the Cambrian and Proterozoic ages places these Northern Australian basins in a very attractive neighbourhood for exploration.
BASIN PARTICIPANTS